DESIGN DRAFTING


The Design Drafter module is the first module in any ANVIL EXPRESS system, but calling it the "basic" module is inaccurate, because it is a complete design and drafting system all on its own. Among the highlights are:
Interactive, multimedia tutorials
Complete 2-D wireframe design tools
Complete 3-D wireframe design tools
Mechanical drawings of 2-D or 3-D models
Curve and section analysis
Import/Export of external data types: DXF, DWG, IGES, DRW (ANVIL-1000)
Export of Stereolithography (STL) binary or ascii.

CLICK TO ENLARGE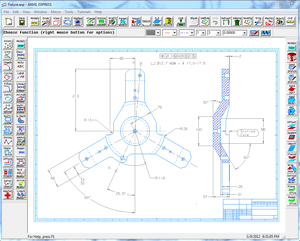 Tutorials
ANVIL EXPRESS' multimedia tutorials are the key to quick productivity, and no other program has anything quite like them. For novices, there is a system tour that demonstrates the basics every user needs to know. For intermediate users, there are more detailed explanations of the various areas of the system. These include interactive art-to-part work sessions of varying complexity. For experienced user, function-specific tutorials provide straight-to-the-point instruction on unfamiliar functions. These tutorials can be invoked at any time, without affecting your current part.
2-D and 3-D Wireframe Design Tools
Design Drafter provides a comprehensive set of wireframe modeling functions that can create all these types of geometry:
Points
Lines and chamfers
Arcs, circles, and fillets
Free-form curves (splines)
Conics (parabola, hyperbola, etc.)
Regular polygons
Offset curves
Projected curves
In most cases, you can choose from several construction methods, picking the one that is best for your particular design situation. These include highly automatic and highly interactive methods of creating geometry. You also can sketch both linear and non-linear profiles with various types of features, including notches, fillets, and several types of slots.
Another powerful design tool is the ability to combine pieces of geometry into objects of varying complexity and power. The most powerful of these, components, can be stored on disk for use in multiple part files, with links that allow components to be automatically updated every time you open your part.
Drawing Layout
To help you create your drawings, ANVIL EXPRESS provides an unsurpassed set of dimensioning and annotation tools. You can, if you wish, create a drawing by manually defining the views and annotation, just as if you were working with pen-and-paper or a basic mechanical-drawing package, because ANVIL EXPRESS lets you apply dimensions, etc., directly to your model, in any view.
CLICK TO ENLARGE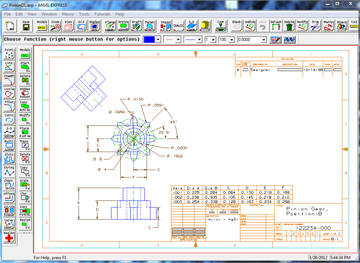 However, the Drawing Layout function provides a faster, better way to create production-quality drawings. With Drawing Layout, the system shows you exactly what your drawing will look like each step of the way. To add a view to your drawing, you just choose a view of your 3-D model, position it in the layout, resize it if necessary, and then add your annotations. You can create "paper-only" geometry if needed, without affecting your 3-D model, and you can selectively hide geometry to clarify the views in your drawing. Styles and templates help you automate the drawing process and automatically enforce your company's drafting practices.
Best of all, your Drawing Layout is fully associated with your 3-D geometry: if you change the model, you can update your drawing automatically.
Because ANVIL EXPRESS is designed for multinational use, the Design Drafter module supports all the major national drafting standards:
ASME 1994
ANSI 1982
ANSI 1973
BSI
DIN
JIS
Changing from one standard to another is a simple point-and-click operation, as is changing the units of measurement between metric and English.
Geometric Analysis
To supplement its extensive set of design and drafting functions, the Design Drafter module includes some basic CAE functions for geometric analysis. These enable you to:
Display data about the entities in your database
Examine the relationships between geometric entities
Study the properties of planar areas within your design
Learning More
Industry in the 21st Century will be faster paced and more competitive than anything we have ever seen, and yesterday's CAD/CAM tools just won't do the job. You need a 21st Century CAD-through-CAM system, and you can get it without waiting for the next millennium: ANVIL EXPRESS is available today.
So don't be left behind. Register to get your free 30-day trial download.
---