ANVIL EXPRESS OVERVIEW

Quite simply, ANVIL EXPRESS is the future of mechanical CAD through CAM technology. It has all the tools a designer needs, and it's easy to learn. One of the first industry analysts to review ANVIL EXPRESS was David Weisberg, the publisher of Engineering Automation Report:
"During the past several years, the cost of CAD/CAM systems has come down dramatically. Unfortunately, most of the systems available today still require an inordinate amount of time to master. ANVIL EXPRESS breaks the paradigm with an extremely productive user interface and a new concept in interactive multimedia coaching tools. Most design and manufacturing engineers should be able to sit down and produce useful work in a matter of hours. You can learn as you go. This is definitely the biggest advancement in automated learning tools in the CAD/CAM industry."
In addition to being a complete, integrated system, ANVIL EXPRESS is a modular system. You buy only the capabilities you need now, without compromising your ability to add new modules in the future.
A complete set of 2-D and 3-D design and drafting tools.
True automatic solids from a machinable 2-D drawing.
Interactive tutorials for both novice and experienced users.
A large toolkit of advanced surface modeling tools.
2 1/2, 3, 4, and 5-axis CAM that can handle almost any machining requirement.
Visual tool-path simulation and verification.
Photo-realistic rendering and animation.
Advanced customization and automation capabilities.
Essential Benefits
ANVIL EXPRESS gives you everything you need to compete in the 21st Century:
The best combination of high-end functionality and an affordable, mid-range price
True automatic solids from a 2-D drawing
Full CAD through CAM integration with drafting, surfaces, NC programming, tool-path verification, rendering, and animation
The first true interactive on-line help in the CAD/CAM industry
Total Integration
ANVIL EXPRESS is a complete, Windows-based CAD-through-CAM-and-more product line. In addition, ANVIL EXPRESS has powerful ties to the outside world, with a full suite of translators:
Use these to import existing data and to share ANVIL EXPRESS data with others.
Need help in converting Anvil part files to other formats? Click Here!
On-Line Audio-Visual Tutorials
The ANVIL EXPRESS Tutorial Executive sets a new standard for on-line CAD through CAM help with an extensive set of multimedia tutorials. You can use these tutorials at any time, even in the middle of work on a production part, quickly bringing new users up to full productivity.
Room to Grow
ANVIL EXPRESS is available in a variety of configurations, ranging from basic design and drafting systems to full-featured CAD through CAM systems with automatic solid modeling at the most competitive prices available in the industry. No other system offers a cleaner, easier growth path than ANVIL EXPRESS.
So register now for your free 30-day trial download or contact our Cave Creek office.
Design Drafter
The ANVIL EXPRESS Design Drafter module is a full 3-D wireframe design and detail drafting package that includes free-form curves, a comprehensive set of manipulation methods, plus curve and section analysis for basic CAE. And, of course, it supports all popular international drafting standards. Relational technology is particularly useful when multiple designs are based on a parent design (family-of-parts projects) and when a design is frequently adjusted or revised during the course of product development.

Automatic Solids
SNAP2-3D, the first true automatic snap-to solids generator, makes its debut in ANVIL EXPRESS. Just draw 2-D views of your part, then click the SNAP2-3D icon. ANVIL EXPRESS automatically creates a solid model, complete with the features you've drawn.
CLICK TO SEE SNAP2-3D IN ACTION !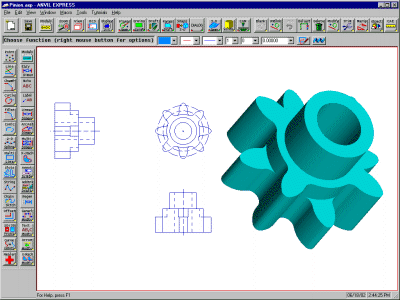 Surface Modeler
ANVIL EXPRESS Surface Modeler includes all of Design Drafter and it creates all the important surface types:
Free-form NURB surfaces
Blending surfaces
Analytic surfaces (planes, cones, etc.).
Curve-based mesh, surface of revolution, projected, and curve-driven surfaces
Trimmed surfaces
Surface Modeler extends your CAE capabilities with mass-properties analysis and your visualization capabilities with a variety of software hidden-line and shading techniques. It also outputs STL files for stereolithography and related uses.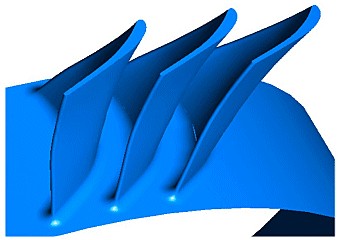 "Surfaces that are difficult or impossible to create in SolidWorks are easily modeled with ANVIL Express while keeping seams accurately joined allowing you to cut your solid model while retaining multiple features."
Don Geri
GEI Technology, Inc
Manufacturing
ANVIL EXPRESS Manufacturing includes the following machining modules:
2 1/2 axis machining (milling, turning, drilling & engraving)
3 axis milling
4 - 5 axis milling
Wire EDM machining
ANVIL Verify Lite (included with all machining modules)
NCPost (included with all machining modules)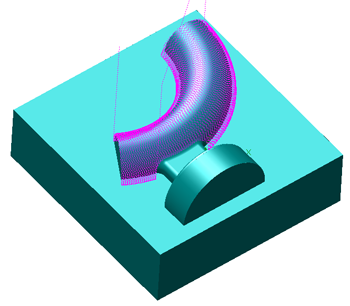 Render/Animator Visualization
Besides creating great products, ANVIL EXPRESS creates great-looking images of your product with its optional rendering and animation capabilities. Use ANVIL Render/Animator to create photorealistic images for manuals and sales materials. You can also use it to create action sequences for multimedia presentations and management review. ANVIL EXPRESS does more than just help you create products, it helps you explain and sell them, too.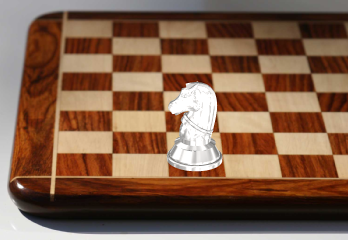 API Customization and Automation
ANVIL EXPRESS includes two ways to customize and automate your CAD-through-CAM system.
The first is GRAPL, the native graphic-application programming language for ANVIL EXPRESS. It includes both Windows-based and command-line versions of the GRAPL build utilities. In the Windows-based GRAPL program builder, you are only a few mouse clicks away from creating custom GRAPL programs that are ready to be executed from inside ANVIL EXPRESS.
In addition to providing a native programming language, ANVIL EXPRESS includes an application programming interface (API) designed specifically for those who prefer to use Microsoft's Visual C++ or Visual Basic. This API provides system-level access to many ANVIL EXPRESS functions in a form that lets you work in today's most popular programming environments.
Need help writing or customizing a GRAPL program and canít find it in our Free GRAPL Library Download? Then you can Click Here!
Learning More
Industry in the 21st Century will be faster paced and more competitive than anything we have ever seen, and yesterday's CAD/CAM tools just won't do the job. You need a 21st Century CAD-through-CAM system, and you can get it without waiting for the next millennium: ANVIL EXPRESS is available today.
So don't be left behind. Register to get your free 30-day trial download, or contact our Cave Creek office for pricing and availability.
---